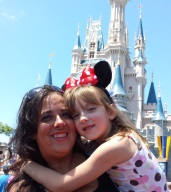 Kim
was exceedingly knowledgeable regarding every detail of our "Enchanted Memory" trip at Disney.  There was not one of my questions that went unanswered.  Her ability to remain constant in scoping out our more difficult reservations like Cinderella's Castle for dinner is very admirable and greatly appreciated!  Our trip will be much more magical due to the effort that Kim was willing to put forth.  She is a definite asset to your organization and I will be looking forward to having her plan our next vacations.
She is amazing!  She booked everything I wanted, from dining to fast pass in record breaking time.  I believe I leave in 9 days and I just started my reservations by asking her, "How fast can you get me to Disney".  Again, Kim is the best, no doubt in my mind! 
KIM FISHER
, the best representative you have!
Charles, July 2017