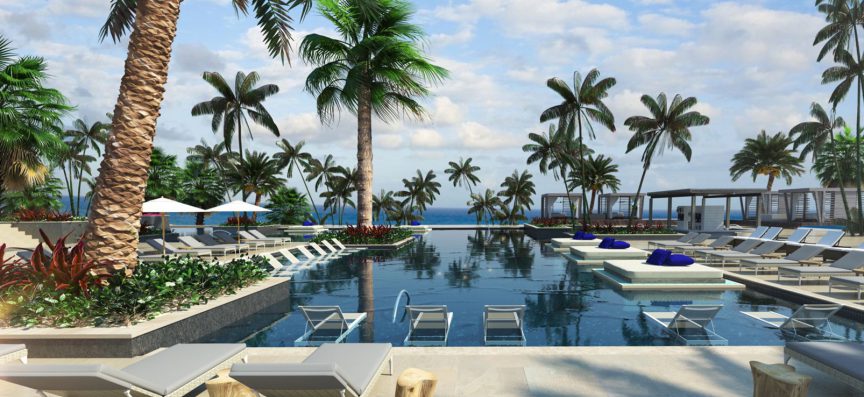 The new UNICO 20°87° hotel is a concept that we love: luxury, all-inclusive and immersion in the culture of the region. It's truly a unique experience that we think our adult clients will love.  We love their philosophy that guests "arrive as a tourist, leave as a traveler."
This amazing resort will be open to guests in March 2017 and they are making it very easy for clients to get to know them with low pre-opening rates starting at $207/night.  See below for more information about this resort and to request a no-obligation quote.
---
UNICO 20°87°, an adults only all inclusive hotel, is the newest addition of RCD Hotels. It was born out of a desire to create an entirely new category of all-inclusive—one defined by relaxed luxury and cultural immersion. At UNICO 20°87°, you'll meet modern Mexico face-to-face and experience rare access to the region's most exciting locales and lesser known wonders.
Location is at the heart of the UNICO 20°87° experience. That's why we've put the latitude and longitude of the region in the hotel name—20°N 87°W. These coordinates are representative, not only of UNICO 20°87°'s devotion to its location, but also its ambition to immerse guests in the region's beauty and culture. Through a staff of local experts, guides, artisans, and specialists, UNICO 20°87° is able to showcase the true heart of the Riviera Maya.
Set on the stunning white beaches of Riviera Maya, UNICO 20°87° immerses guests in the culture of the region, from the locally-inflected cocktails and cuisines, to the art in the rooms. Three unique pools and a holistic spa and wellness center drive home a sense of relaxed luxury, while exciting pop-up events insert a touch of spontaneity into the experience.
At our adults only Riviera Maya all-inclusive hotel, each bright, spacious room is filled with local inspiration, from the art on the wall, to the patterns of the upholstery, to the handcrafted details throughout; they are a luxurious reflection of modern Mexico.
Unico is offering a pre-opening special rate that starts at just $207/night.  Book now and save up to 30% in your all-inclusive vacation pass to modern Mexico. Surrounded in carefully curated, contemporary elements of local culture, this is a whole new era in adult-only, relaxed luxury.
We would be happy to provide you with a no-obligation quote.
*All promotional offers are made by the hotel/resort, not Enchanted Memories Travel, and are subject to change without notice.